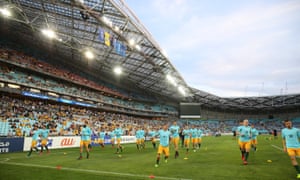 The New South Wales government is heading for another "greyhound moment" over its plans to spend $2bn rebuilding Sydney's sport stadiums, the former independent MP Tony Windsor has warned, as backbench unease about the decision grows.
Last month the state government announced plans to spend $2bn knocking down Allianz Stadium at Moore Park and the former Olympic stadium, now ANZ stadium, at Homebush.
Windsor said on Twitter: "Greyhounds again … stop it soon or pay later."
The government's decision to ban greyhound racing in 2016 marked a major change in fortunes for the former premier Mike Baird and his government, leading to an embarrassing backtrack after a slump in the polls and the loss of a byelection in Orange.
Backbench MPs worry that Labor's campaign for the money to be spent on hospitals and schools is biting. According to the ABC, one warned: "This will kill us."
A petition posted by the Fairfax columnist Peter FitzSimons on change.org.au has garnered more than 80,000 signatures in its first 48 hours.
It calls on the NSW cabinet "to reconsider their decision to knock down two perfectly fine sports stadiums – the Olympic Stadium and Sydney Football Stadium – at a staggering cost of $2bn, to replace them with new ones, at a time when there is ZERO public demand to replace either".
"We are tired of taxpayer dollars being lavished on building facilities for Sports Big Business, while community sport withers on the vine for lack of facilities and resources," it says.
The stadium decision has proved a hard sell. The government has not released a business case for either project, though a 2015 report made the case for altering the configuration of ANZ Stadium to make it into a more intimate rectangular field more suitable for football and the two rugby codes. It also suggested installing a retractable roof.
But that plan has now morphed into a more extensive project.
The case for the rebuild of Allianz Stadium has never been made public, but has been the subject of extensive lobbying by the powerful Sydney Cricket and Sports Ground Trust, whose trustees include the broadcaster Alan Jones and the former News Corp chief executive John Hartigan, as well as numerous sporting figures.
In 2016 Baird kiboshed a plan to rebuild Allianz and instead nominated ANZ as the priority.
The sports minister, Stuart Ayers, has struggled to win over even his own colleagues to the $2bn plan. It split the cabinet and was opposed by the treasurer, Dominic Perrottet.
On Monday News Corp's Daily Telegraph backed the Ayres plan in an editorial, ran a long supportive article and published an opinion piece by the minister arguing that Sydney needed the spending to compete with other cities.
"[This] is about securing not only our sporting future but also our major events future," Ayres wrote. "If we don't invest in these facilities we put at risk that critical revenue for our state and the jobs of one in 23 people who work in the events sector."